Supervisor, Sterile Processing Department, Truckee, CA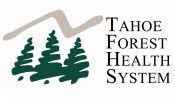 View the Website
Tahoe Forest Health System
Supervisor
Truckee, CA
February 9, 2018
Tahoe Forest Hospital has 25 acute care beds and 36 long-term care beds. Our service area covers six rural counties, two states and approximately 3,500 square miles, reaching the communities of Truckee, North Lake Tahoe, Donner Summit, the Sierra Valley in California, and Incline Village in Nevada.
Tahoe Forest Hospital offers 24-hour emergency care, an ambulatory surgery center, intensive care, orthopedics and sports medicine, a medical/surgical unit, women and family center, home health and hospice programs, a health clinic, cancer center, long term care center, children's center, a health and sports performance center, as well as a variety of community health outreach programs.
We are currently recruiting for a highly qualified Supervisor, Sterile Processing Department
SUMMARY: Supervises and coordinates the activities of the Sterile Processing Department at TFH and IVCH in accordance with the organization's policies, infection control and sterilization standards and applicable regulations.
ESSENTIAL DUTIES AND RESPONSIBILITIES: include the following:
Supervises personnel and technical practice in Sterile Processing.
Coordinate daily operations of SPD.
Ensures adequate staffing of SPD, including posting staff schedules.
Interviews, hires and trains employees.
Conducts probationary and annual reviews in conjunction with department director.
Plans in-services for new procedures and equipment.
Engages in staff teaching and development.
Develops and maintains Policy and Procedure Manual for SPD, ensuring all standards and regulations are in compliance.
Develops and maintains a Quality Improvement program for SPD.
Assists Surgical services Director with annual operating and capital budget planning.
Monitors and maintains all department records and documentation. Ensures personnel are keeping records and documents within regulations and standards.
Demonstrates System Values in performance and behavior.
Complies with System policies and procedures.
Other duties as may be assigned.
SUPERVISORY RESPONSIBILITIES: Carries out supervisory responsibility in accordance with the organization's policies and applicable laws. Responsibilities include interviewing, hiring and training employees; planning, assigning and direction work; appraising performance, rewarding and disciplining employees; addressing complaints and resolving problems.
EDUCATION AND EXPERIENCE: One year certificate from college or technical school; or equivalent combination of education and experience.
LICENSES, CERTIFICATIONS: Required: IAHCSMM Certification (CRCST) Preferred: Instrument Certification
OTHER EXPERIENCE/QUALIFICATIONS: Minimum three years supervisory experience desired.
See above
See above
See above